Aldi is one of the top-most and well-known German supermarket chains. It is known for its quality service and products and has over 10k stores in around 20 countries around the globe. Aldi offers a wide range of grocery products but additionally, it also offers high-quality machines for making your lifestyle easier. This time it has bought its churro maker.
Churros are a dessert made up of fried dough and are sprinkled with cinnamon and sugar, these have their line of heritage in Spain and Portugal, they are also particularly famous in Latin America. Their amazing taste has now made them a known dessert all around the world, everyone is now enjoying having them with chocolate.
Aldi, with its innovative ideas, has made it easy for us to make churros at home in a convenient way with its own Aldi churro maker. This churro maker by Aldi was sold out instantly when it was launched, and now to keep up with its demand in the market, Aldi has relaunched its Aldi churro maker and we are nothing but excited and happy.
The Aldi churro maker comes at a very affordable price of £14.99, which is way much cheaper than any kind of churro maker that you will find online. With its affordable and attractive price, there are various other benefits of using this churro maker that we will discuss further.
Product Information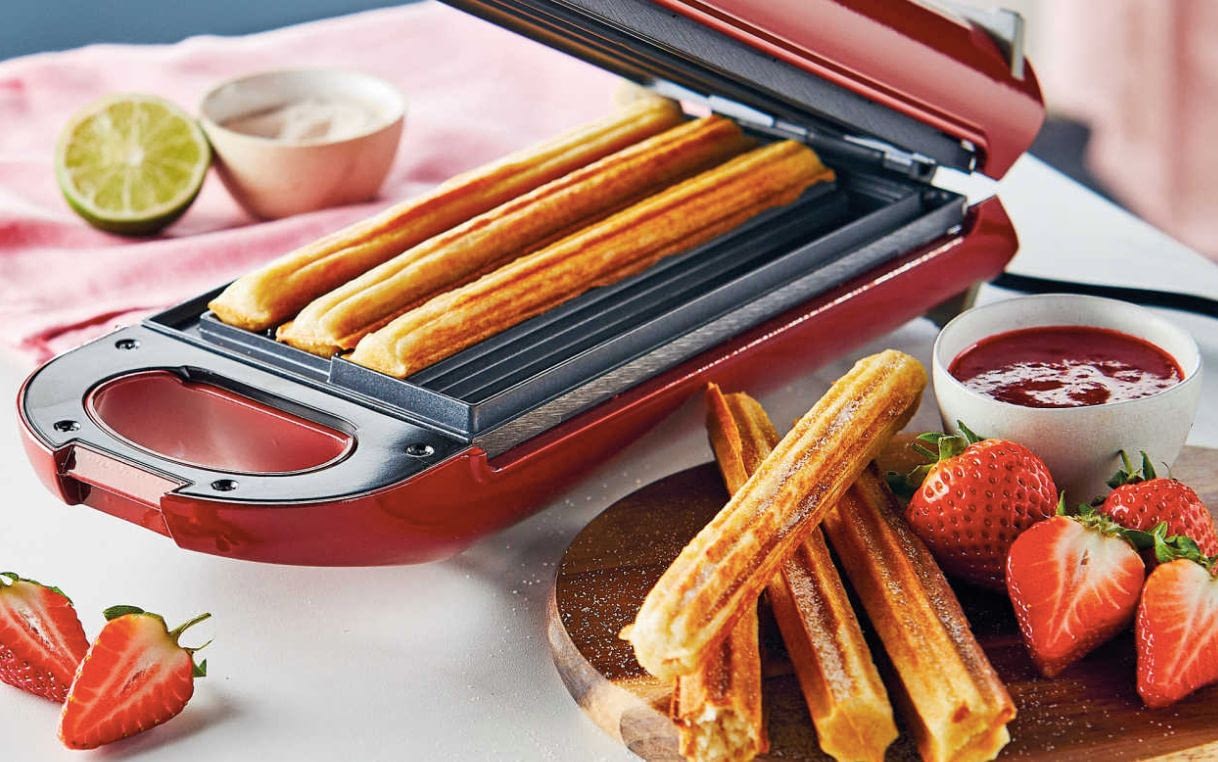 First, we will talk about the basic and essential information about the Aldi churro maker. The churro maker is corded and
is made up of plastic and aluminum. The maker works on the power of 220 V and weights approx. 1kg. The maker has a cable of the length 70cm and works on 800W.
Other Features
With the Aldi churro maker, you can prepare delicious churros for your family and friends within a few minutes. It is the most easy-to-use churro maker out there in the market. One essential step that you need to follow while making churro is to fry them in hot oil, but with this churro maker, you are free of the hassle of frying and working with hot oil, which can sometimes be dangerous.
You can make four churros at a time. Another best thing about this product is that it has a system which automatically controls the temperature and makes perfect churros in no time. Additionally, it has non-stick plates so you do not have to worry about your dough sticking up on the plates and increasing your work.
The churro maker also has a 180o rotary system and is easy to clean and maintain. Moreover, with the product, you will also get a piping bag through which you can give perfect shape to your churros, and we all know that a perfect shape ensures the delicious taste of the churros.
Aldi also provides a 3 years warranty with this product, maintaining its reputation and providing only quality products to its customers.
Moreover, the machine comes with an instructional manual and a recipe book that contains recipes for your favorite churros, waffles, cookies, and many more delicious treats
which you can make by simply using this multipurpose Aldi churro maker.
How to Use the Aldi Churro Maker?
The Aldi churro maker is extremely easy to use. All you need to do is, firstly, prepare your delicious batter. Then, turn on the machine and heat it, this is indicated by the turning on of the green light. Once it gets heated to an appropriate temperature, the green light gets turned off, this process takes approximately 3-5 minutes in total.
Once the machine is on a desirable and appropriate temperature and is hot enough, pick up your piping bags which come free with the machine, and fill them up with the batter. Next, pipe the batter into the non-stick plates and give your churros a perfect shape. Leave them to cook for two and a half minutes, then turn the machine over for another two and a half minutes. After approximately five minutes, you will get your perfectly cooked, crispy, and delicious churros which are ready to eat and do not even dare to forget the chocolate dipping.
Once you are done using the machine, you do not have to worry about the hassle of cleaning the plates. The plates basically cannot be removed from the machine but can be easily cleaned by wiping them. This is achieved due to its non-stick properties.
Recipe for making churros in the Aldi Churro Maker
We will give you a simple recipe through which you can make your churros in this machine. Follow these simple steps to make delicious, and crispy churros:
Step 1: Firstly, you need to add water, butter, and beaten egg together. This is essential to make a good batter.
Step 2: Next, you need to add flour and salt into the mixture that we made earlier and blend it nicely. Ensure that there are no lumps in the batter. To check the consistency of the batter, keep in mind that the batter for churros is thicker than what we make for pancakes.
Step 3: Now, you can either store your batter for future use in a bag or if you want to make them instantly fill the batter into the piping bags which come with the machine.
Step 4: Meanwhile, make a coating for the churros by mixing up cinnamon and sugar in a bowl.
Step 5: Now, heat the machine and after the green light goes off, pick up your piping bag and fill in the plates of the machine with the batter. Cook them according to the instructions given in the manual.
Step 6: Lastly, remove the crispy churros from the plate and sprinkle them with the cinnamon coating you made earlier. Your delicious churros are now ready to eat!
Overall Product Review
In conclusion, Aldi churro maker is worth all the hype. The product comes at an affordable price and is made up of high-quality materials which ensure that it lasts for a long. The best thing about the machine is its non-stick plates, with the non-stick property you can easily cook your churros and clean the plates by just wiping them up. Additionally, the product comes with an instructional manual and a piping bag through which you can make your cooking even more convenient.
Therefore, if you are up for throwing a tasty churro treat to your friends and family, then you need to get this churro maker by Aldi. It will well serve your purpose and with your creative mind, you can make other desserts such as waffles as well.